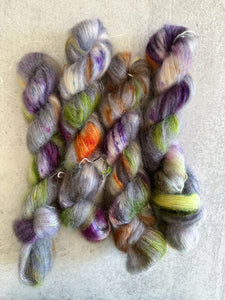 This is it-- the most Halloween colorway I could think up, inspired by and named for the 1988 Tim Burton classic Beetlejuice. 
Handbook For the Recently Deceased Unicorn is all black and grey with speckle-y pops of neon orange and green, deep purple, and orange. The neon bits glow under blacklight and it's SO MUCH FUN. 
Republica Unicornia's Mohair Silk base is 72% Kid Mohair, 28% Mulberry Silk, 459 yards/50 grams, single-ply. It has a lovely halo and is a treat to work when held double with a fingering weight yarn (IT'S SO FLUFFY!)
******************************************************************************

Everything you see here is made with love and some swearing in fabulous Atlanta, Georgia. Yarn is ethically-sourced (museling-free) and dyed with professional, colorfast, lightfast acid dyes. 

Due to the nature of hand-dyed yarn, I recommend that you alternate skeins in larger projects. There are often variations even within the same dyelot, so if you need a larger quantity than is available here (say, for a sweater), we've got the solution for that! 

Some color bleeding is normal during the first couple of washes. I wash the bejebus out of my skeins, but some colors are just bleeders. 

Your handmade items are magical delicate flowers and should be treated as such. Handwash in cool water with a delicate detergent (I recommend Sock Soap from Tuft Woolens) and lay flat to dry. Machine wash at your own risk (I'm not responsible for anything that happens to your project during machine washing. Those things are violent.) 

Yarn is dyed in a pet-free studio. 
I do my best to make sure items are true to color in the photos, but monitors/eyeballs/etc. differ. Blues and greens are especially hard to capture (I'M LOOKING AT YOU, ELECTRIC MRS. PEACOCK.) 

If you have a problem with or a question about your purchase, please contact me directly. I'm a reasonable human being. 

Thank you for supporting Republica Unicornia!