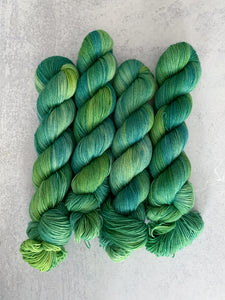 If you need multiple skeins of a single colorway for a larger project (like a garment), you've come to the right place. Please read carefully before choosing your own adventure.
Please note: minimum order is four skeins in the same colorway. 
If you don't see the colorway that you'd like, please check in with me!
Here's how it works:
Visit the Colorway Library and decide what color you want! Leave the color you'd like in the notes section at checkout. 
Choose your base from the following - BFL Sock, Pure BFL, BFL DK, Targhee Sock, Rambouillet Worsted, Mohair Silk, or Suri Silk Floof. Yarn base information is here. Leave the base you'd like in the notes section at checkout. Please note that only the bases listed here are available for Sweater Quantities. 
Pick the number of skeins you'd like. 

Don't forget to leave the name of the colorway AND the base you'd like in the notes section at checkout! (For boring coding reasons, the listing is defaulting to "Pure BFL" in carts. We're working on it, but we want to make sure that you get the yarn you want!)
 This yarn is dyed-to-order. Turnaround time is 6 weeks. 
Don't forget to use the code "UNICORN" for 15% off on six or more items in the shop.
If you order additional items at the same time, your order will ship all at once.
*****************************************************************************
Everything you see here is made with love and some swearing in fabulous Atlanta, Georgia. Yarn is ethically-sourced (museling-free) and dyed with professional, colorfast, lightfast acid dyes. 

Due to the nature of hand-dyed yarn, I recommend that you alternate skeins in larger projects. There are often variations even within the same dyelot. 

Some color bleeding is normal during the first couple of washes. I wash the bejebus out of my skeins, but some colors are just bleeders. 

Your handmade items are magical delicate flowers and should be treated as such. Handwash in cool water with a delicate detergent (I recommend Sock Soap from Tuft Woolens) and lay flat to dry. Machine wash at your own risk (I'm not responsible for anything that happens to your project during machine washing. Those things are violent.) 

Yarn is dyed in a pet-free studio. 

I do my best to make sure items are true to color in the photos, but monitors/eyeballs/etc. differ. Blues and greens are especially challenging to capture (I'M LOOKING AT YOU, MRS. PEACOCK). 

If you have a problem with or a question about your purchase, please contact me directly. I'm a reasonable human being. 

Thank you for supporting Republica Unicornia!